There are a few reasons where it would be nice to have your laptop hooked up to an external monitor or another TV. One of the most common reasons is to have a bigger display. Another reason is to be able to use multiple screens – one from your laptop, the other being an external monitor. Also, you could be traveling away from home and let's say you're going to be at a hotel for a few days and you have movies on your laptop you would like to watch on a bigger screen, maybe even youtube videos or something online.
Our Gift to You: 5 months of any TIDAL Music Streaming plan for $5 – over 90% off.
Whatever the case, knowing how to hook up and configure an additional display to your computer can come in very handy when such situations arise. As usual, with most computers and Operating systems, there's more than one way to accomplish this task but I'll be showing you a quick and easy way to get this done in Windows based OSes using shortcuts.
A few things are required to get this done, depending on the video card's interface of your laptop. Not all laptops carry the same features, so make sure you're well equipped with the right cables to make a connection. Another issue you may run into, is that we do not know exactly what video outputs the TV will have at the traveling destination. Unless it's somewhere you've been before and you're aware of the setup.

Here's the list of items to have handy;
Laptop and charger – most important and obvious. Don't go to war without your weapon.
VGA Cable – most older TVs have this as an input so it's good to have one. VGA stands for – Video Graphics Array. It has 3 rows with 5 pins in each row, so 15 pins altogether. Laptops also have this for backwards compatibility.
HDMI Cable – better than VGA cables because they also transmit audio to the TV's speakers. VGAs are Video only so you'll need to rely on your laptop's speakers or bring an extra set of speakers. Since laptop speakers are not as loud in general unless you've got some nice Bose, Harman/Kardon or Beats by Dre inbuilt speakers.
Optional but necessary:
Wireless keyboard and mouse – Consider this as the remote control for your computer – just like a TV has it's remote. If you don't have this, be prepared to go up to your touchpad/keyboard everytime you need to make a selection.
Once you have the necessary items, proceed by examining what outputs are available on the back/side of the TV and see if any matches what's on your laptop. If you see a match with VGA or HDMI, that's good. If both are available you should go for HDMI since it's more advanced. The setup procedures are the same.
Make sure both TV and Laptop are powered on so that the TV can detect and transmit the video signal, hookup the cable to your laptop and connect the other end to the TV. Once that's done, get the TV's remote and change input or source, to VGA or HDMI – depending on which one you have connected.
You should see the laptop's screen on the TV – some TVs have more than one HDMI connection – if so, keep pressing the 'source/input' button on the TV remote until you see the computer's display on the TV screen.
Once you get a connection, in some cases, you'll also need to configure display settings. If you're lucky you'll see a mirror display of the laptop on the TV and you're good to go. But if you're only seeing an extended display of your laptop, you'll need to configure display settings as shown below.
Hold down the Windows key + P Key as shown (circled) below

You'll be presented with a list of options on the right side of your screen as shown below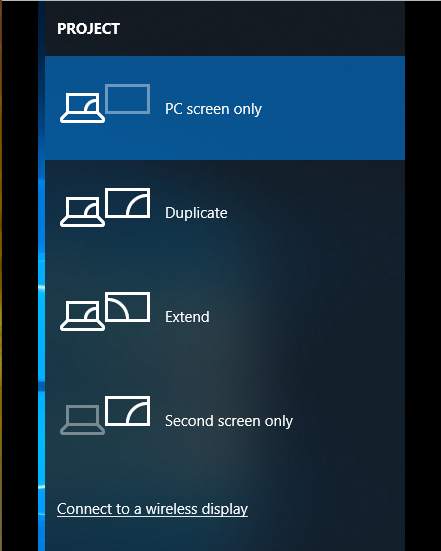 Depending on your preference, here are the definitions of the different display settings
PC screen only – is the opposite of the 'Second screen only' setting at the bottom. It takes you back to the laptop's screen alone.
Duplicate – is a mirror image of what you have on your laptop.
Extended Display – is an extension of your desktop – good for extra screen space especially for those who would like to setup external monitors for an office setting or just to have an extra screen to do multiple things like view two different displays.
Second screen only – is good if you would just like to have a bigger display and not have to use the screen on your laptop which could be distracting if you're watching video. Also efficient since you wouldn't be using the laptops screen directly.
Feel free to select the different options so that you can see which one works best for you based on your needs. You can make a selection by simply using the cursor keys on the keyboard, touchpad or a mouse.
This configuration works for Windows versions 8 to 10. For Windows 7 and below, you may have to set it up from Control Panel > Search for 'Display Settings' or 'Projector'.